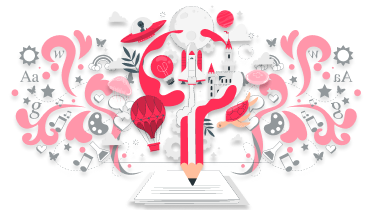 Welcome to StoryTattva, an unconventional storytelling practicum dedicated to nurturing young minds and transforming them into thought-provoking writers. Founded by accomplished author and screenwriter Srivinay Salian, our mission is to provide a stimulating learning environment that fosters creativity, innovation, and growth in the world of storytelling.
Tailored Coaching & Online Tutoring for Writers
Personalized Coaching
Unlock your full writing potential with our personalized one-to-one coaching services at StoryTattva. Our dedicated and experienced writing coaches work closely with you to identify your strengths and areas for improvement, creating a tailored learning plan that aligns with your goals and aspirations. Develop your unique voice and style as you gain invaluable insights and guidance to elevate your storytelling abilities.
Online Tutoring
Experience the convenience and flexibility of our online tutoring services at StoryTattva, designed to accommodate aspiring writers of all skill levels. Through engaging, interactive sessions, our expert tutors provide comprehensive instruction in various aspects of storytelling, ensuring that you receive the support and feedback necessary to hone your craft and achieve your writing objectives from the comfort of your home.
Writing Solutions for Every Need
Copywriting
Capture your target audience with persuasive copywriting. Our talented copywriters create impactful marketing materials, advertisements, and promotional content that effectively convey your brand's message and resonate with your audience.
Content Writing
Establish your brand's authority with engaging, high-quality content. Our experienced content writers craft blog posts, articles, whitepapers, and more, tailored to your audience's interests, building trust, credibility, and a loyal following.
Critique & Editing
Elevate your manuscript with our expert critique and editing services. We provide constructive feedback, identify areas of improvement, and offer valuable suggestions to refine your writing for a polished, engaging, and publication-ready work.
Ghostwriting
Collaborate with our skilled ghostwriters to transform your ideas into a captivating narrative, while maintaining your unique voice and vision. We ensure discretion and a polished final product that exceeds your expectations.
Book Coaching
Realize your book-writing dream with our expert book coaching services. Our dedicated coaches guide you through your writing journey, helping to avoid pitfalls and complete your manuscript efficiently and confidently.
StoryTattva Community
An Exclusive Haven for Passionate Writers
Are you a serious writer seeking connection, inspiration, and growth? The StoryTattva Community is an exclusive circle of like-minded individuals, carefully curated to foster creativity and the exchange of ideas. Membership is limited, ensuring a truly dedicated and enriching environment.
To join this prestigious community, we invite you to showcase your writing prowess in a 1000-word essay on a given topic. Our team will evaluate your submission, and if selected, you'll be granted free, lifetime access to a world of unparalleled opportunities.
As a valued member of the StoryTattva Community, you'll enjoy:

An egalitarian, inclusive space for storytellers to flourish
Networking with other talented writers
Access to invaluable knowledge resources
Free consultation sessions with industry experts
Exclusive lessons to refine your craft
Take the first step towards unlocking a new world of writing excellence. Are you ready to rise to the challenge?